Švarcvald torta je torta od višanja sa čokoladom.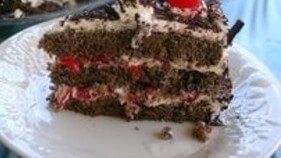 Sastojci:
Kora:
8  jaja
8  kašika šećera
8  kašika mlevenih oraha
4  kašike kakaa
4  kašike brasna
4  kašike likera od višnje a i ne mora
1  prašak za pecivo
Za Fil 1:
1kg  višanja
2 kašike gustina
Za Fil 2:
sok od višanja, to je sok koji vam je ostao kad ste iscedili višnje
2 pudinga od vanile
200 gr šećera
250 gr margarina
Za Fil 3:
500g šlaga ili 0, 5l slatke pavlake
Priprema:
Belanca umutiti sa šećerom, dodati žumanca, prašak za pecivo, brašno, mlevene orahe, kakao i chery likera.
Masu dobro izmešati sipati u podmazan i brašnom posut pleh, mžze i četvrtast i okrugli. Pečenu i ohladjenu koru iseći na tri dela-tri kore.
Fil 1;:
Višnje i gustin pomešati pa ovu masu malo skuvati a zatim podeliti na dva dela.
Fil 2:
Sok koji vam je preostao od višanja, a ako nije to vam bude oko o, 7l soka od višanja. U tom soku skuvati dva pudinga dodati šećer. Ohladjenu smesu umutiti sa margarinom i ovaj fil podelite na tri dela.
Šlag pripremite po uputu sa kesice a slatku pavlaku umutite mikserom.
Priprema:
Hladne kore poprskati sa chery likerom ili sokom od višanja.
Tok filovanja Kora-Fil2-Fil1-Fil3. Ponoviti dok sve ne utrošite.